Qualified PCB and Cable AssemblyExpert Service
Our team consists of skilled engineers who are capable of handling high levels of responsibility which gives us an edge to deliver best quality PCB Assembly and Custom Cable Assembly products to our clients.
Electronic Manufacturing Products At Affordable Prices
Jayshree Instruments is considered as one of the best PCB Assembly manufacturing companies in Gujarat and it offers a variety of electronic manufacturing products at reasonable prices created with advanced technology along with quality assurance.
PCB Assembly and Cable Assembly Quality Assurance
Without compromising the quality of PCB Assembly and Wire Harness Assembly, we stayed ahead of the competitors by assuring quality in our electronics manufacturing products, engineering and production.
Jayshree Instruments – The Most Dependable Name In Indian Electronics Market
When you have to pick the most dependable electronics manufacturer in India, you can get befuddled with the plenty of choices available in today's competitive market.
However, time and again, Jayshree Instruments has stood the test of time and emerged to be your first choice for all of your electronic manufacturing needs.

To be one of the most reputed ems companies in India and sustain as the leader in this sector takes airtight commitment and efficiency – both of which we have always been inclined to. With over 20 years of expertise, we have distinguished ourselves as a highly reputed electronics products manufacturer in India, providing outstanding services to both multinational corporations (MNCs) and Indian businesses.
At Jayshree Instruments, we make your imaginative concepts a reality. We value long lasting connections, creative solutions, and happy customers. To bring your innovations to life and create the products of the future, our committed team of professionals uses cutting-edge technology and sophisticated manufacturing techniques.

We provide comprehensive services catered to your specific needs, ranging from PCB and cable assembly production to design engineering, testing, prototype builds, and international procurement.

Quality is paramount in all our works. Through continuous audits, real-time data collection, and problem-solving techniques like the Eight Disciplines (8Ds), our ISO 9001 accredited facility ensures exacting quality control. We take pride in exceeding the high standards set by our clients, giving you peace of mind and trust in our services.

At Jayshree Instruments, we are extremely proud to be one of the leading EMS manufacturers in India. We are based in Ahmedabad; so for any needs in electronics items, you know where to reach out to.
One stop fabrication and assembly
Comprehensive quality assurance

Professional engineering team

High efficiency with competitive price ranges
Our Electronics Manufacturing services
Established in 2001, Jayshree Instruments provides PCB assembly services which is considered as one of the most…
We are providing cable harness assembly and wire harness manufacturing services to various industries for all applications….
Jayshree Instruments materials management team does more than just buy the components. They're responsible for the seamless…
Electronic Manufacturing Services provider, expert in Box Build solutions Our build-to-order and configure-to-order services assemble a product…
Prototyping as the first step of a long term, trustworthy partnership. Prototyping at the early stage of…
All testing that we currently undertake is 'functionally based' with specialized test equipment, fixtures or programs designed…
We are quality manufacturer
Since its establishment in 2001, Jayshree Instruments has offered top-notch design and production services backed by high standards of technical support and excellent customer care. Our clients are aware that they can depend on us for high-quality goods and the best services available in our sector. When we first began, we had a vision of a different sort of business—one that genuinely cared about its clients and runs on the tenets of client happiness.
We are quality manufacturer
At Jayshree Instruments, we want to develop the things of the future while also bringing your products to life. By doing this, we want to earn our clients' respect as the greatest Electronic Manufacturing Services (EMS) partner.
We are quality manufacturer
At Jayshree Instruments, we strive to provide our customers unique design, engineering, and contract manufacturing solutions that will improve their competitiveness and speed up the development of their products.
Since our establishment in 2001, we have been one of India's leading providers of specialist PCB fabrication and assembly services to professionals, engineers, and manufacturers all over the world. With more than ten years of experience in the design, production, testing, and assembly of customized printed circuit boards, we can now offer a full range of services, including rapid PCB prototyping, circuit board manufacturing, PCB assembly, and component sourcing, all with a guarantee of high quality and reasonable cost.
I and my team would like to thank you for your outstanding service and excellent quality. I got my first PCB from you which looked great. When I had queries, your staff was polite in answering and was in touch with me on regular basis regarding my needs before purchasing the boards. When I got the boards they looked clean and well manufactured. I just want to thank you for your high-quality service and products and I will certainly share details about your company with my contacts.
GT Midwest
For several years, we have had a great business partnership with Jayshree Instruments and are extremely pleased with the quality of the products they manufacture for us. The PCB and cables we ordered were fine, and they all worked well. They have proven to be a valuable partner and we are very impressed by their technical team, who are very professional and supportive. Jayshree Instruments is a proactive and attentive partner who is dedicated to providing dates and delivering them entirely on time. We highly recommend this company for collaboration as a fantastic business partner.
Epic Energy Ltd
One of the few firms that can do both mechanical and electronic design work and manufacture the finished product is Jayshree Instruments. They will finish off the design from basic necessity to circuit design and come back with a validated product ready to use. What we admire the most about Jayshree Instruments is this capacity to do both design and development. They're both very welcoming and nice individuals to work with.
3devo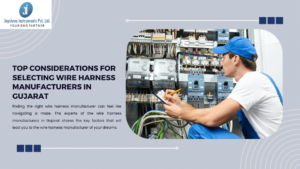 July 25, 2023 12:49 pm
Picture this: a world of wires, connections, and electrifying possibilities. In this electrifying journey, there's one unsung hero that holds it
Read more ➞
Why Jayshree Instruments ?
Professional PCB fabrication and assembly service provider
We are focused and committed in business relationships, continuous growth ensuring total adherence to quality and deliverables at cost-effective prices.